Mokuta Takeo
January 24 – March 14, 2004
The works of Mokuta Takeo who passed away in 1987 was exhibited.
Mokuta Takeo was born in 1910 in Toyooka-ward of Hyougo-prefecture. He started painting in his early childhood because he was influenced by his grandfather who was a Japanese painter. In 1935, he exhibited a landscape using real steels. This painting was unconventional for that time. After that, people loved him for his picture book style paintings.
Since 1960, he started to create works which consisted of wood and steels. He had developed the style until his death. He liked the timbers, especially discarded ones. He listened to the voices of those who were exploited and wasted under the name of civilization. He gave them new lives as his artworks.
The artist gave religious titles to his artworks, such as "Bon", "Miarei." It is said that he was inspired by the instructions from somewhere when he was making his artworks. This attitude of the artist transcending the modern self, enables us to sense his pious respect for the Mother Nature. We will be pleased if you visit the exhibition and hear the artist's message.
*Miarei...Birth, advent of God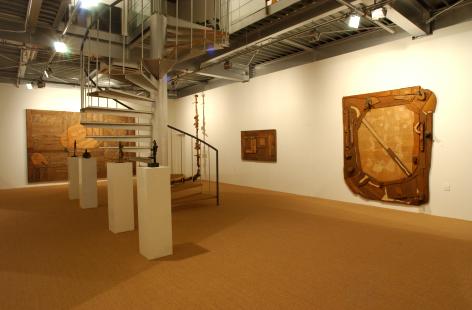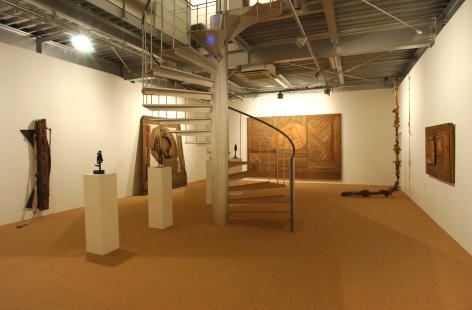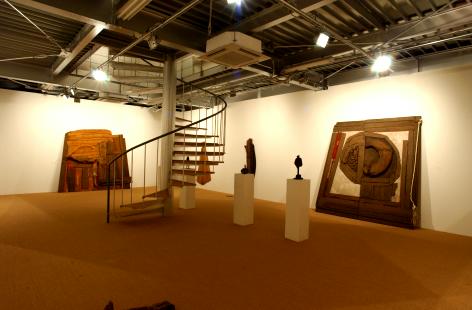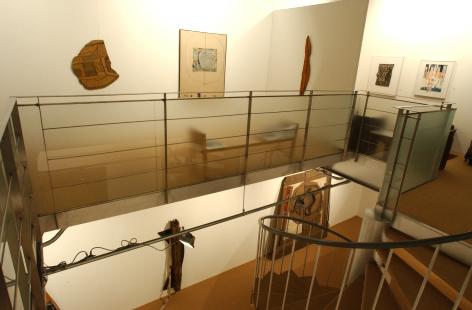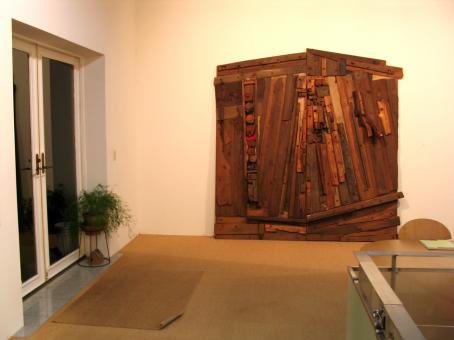 杢田たけを
「浮白色の宇宙からのメッセージ」
2004年1月24日–3月14日
1910年、兵庫県豊岡市に生まれた杢田たけをは日本画家だった祖父の影響もあり、幼いころから絵を書き始めます。1935年には当時には型破りな鉄を用いた風景画を制作。その後は童画風の作品で親しまれますが60年代以降、木や鉄を使用したコラージュ作品を作り始め、亡くなるまでその作風を発展させました。
木、特に廃材を好んだ作家は、文明の名のもとに打ち捨てられたものの持つ声を聴き取り、作品として新たな生を吹き込みました。「梵」「御阿礼」など、宗教的なタイトルをつけた杢田は、制作するときにも背後から指示を受けるように感じていたといいます。そうした態度は近代的自我を超越しており、自然への敬虔な畏怖を感じさせます。作品の持つメッセージをぜひお聴きください。
*御阿礼...「誕生、神の降臨」などの意。