--- Empirical / Nature ---
Solo Exhibition

May 17 - June 12, 1993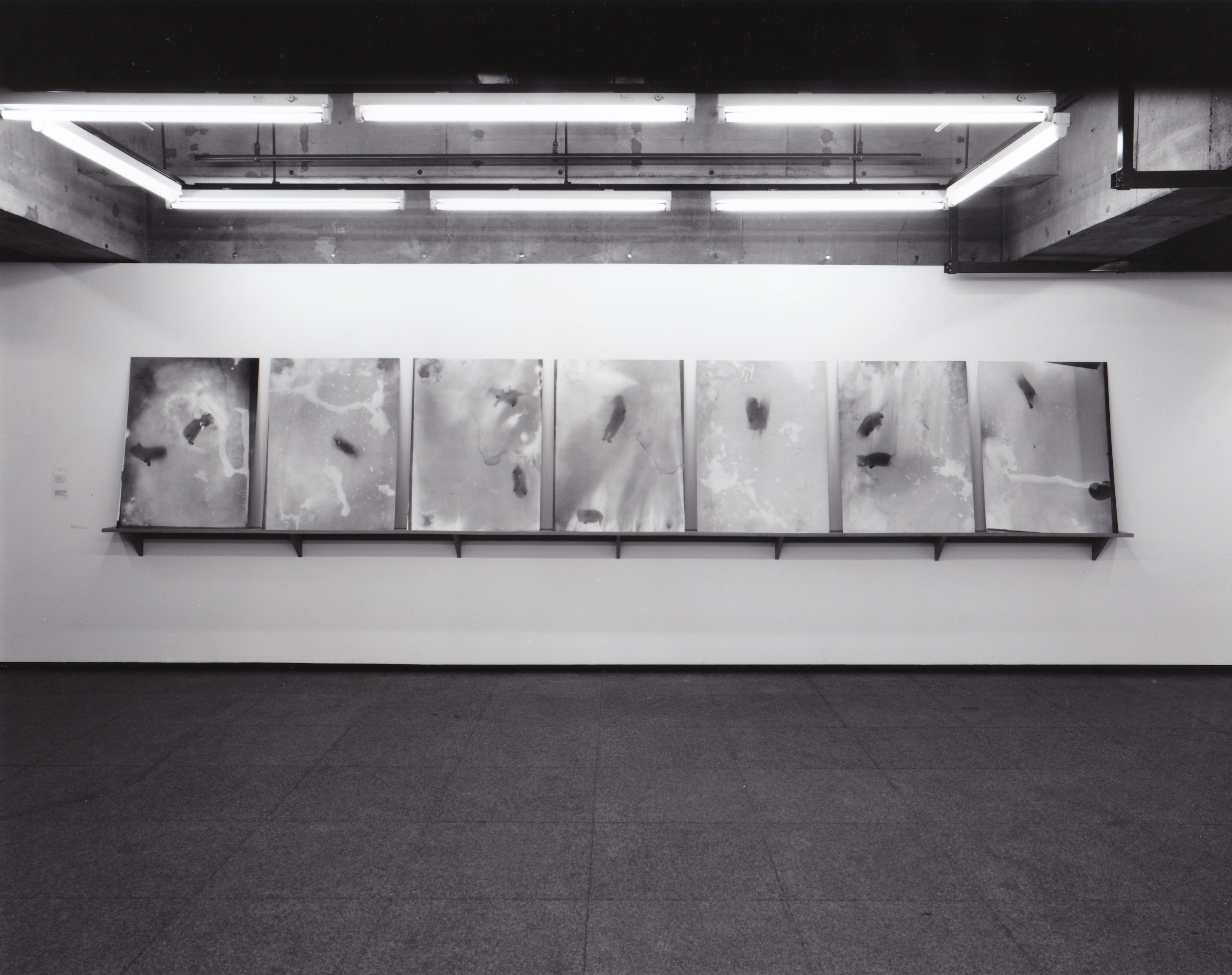 Why do people climb mountains?
However the answer is because mountains exist, it seems to me the answer is through the physical activities of mountain climbing, the spiritual exaltations are resulted.
Art making seems the perpetual mountain climbing whose entire shape will never be revealed.
And on the way some climber who has tendencies to keep documenting must be an artist.
Once I saw the movie "Poltergeist".
The story was there was one nondescriptive suburbian house and suddenly the living room opened up to dark underworld.
One of the children was swallowed in the opening and the mother went down there using and relying something like the lope to rescue the child.
After a lot of struggles, fears and chaoses, she came back with the child.
It seemed that the story was the metaphor of art.
For example, I squeeze the plastic bottle which contains some acrylic paint and push the acrylic lines very swiftly to get some images.
My acrylic lines function as the lope.
I dive into my psycological interior relying this lope and come back to the canvas surface with a piece of souvenior from the abyss of mind.
As for photography, in the dark room I put some materials on the photograhic paper, expose it to light and quickly treat it chemically.
The images appearing on the photographic paper fuse with my fantasy.
But as much as the mountain climber is attracted by flowers and birds and clouds around him/her, I am fascinated by the vitality of New York and the energies from art community.
Especially other artists'studio visits can be very precious for the advices and analysis for my works.
They function as the compass for mountain climber.
Here I would like people to see my works as my personal inner adventures and at the same time as the record of some Japannese person who has lived and worked long time in New York,
Sugiura Kunié
杉浦邦恵 展
--- Empirical / Nature ---
1993年5月17日-6月12日
何故 山に登るか?
答は、山にあるから。というが、私は登山という肉体行為を通じて、精神の高揚が起きるからではないかと思う。
美術制作は、全貌を現さない大きな山に登り続ける様な事柄で、その途中、体験を記録し続けるクセのある登山家がアーティストかもしれない。
ボルタガイストという映画を以前、観たが、特徴のない郊外の家の居間の下にヤミの世界がパックリと口を開け、子供が飲み込まれ、母親が綱の様な物を伝わって降りて行き、やっとの思いで子供を救出し、この世に連れ戻すという様なストーリーであったが、アートのメタファーとも思える。
例えば、私の絵は、壜から押し出される絵の具の線を、キャンバスの上に素早く動かして出て来た線のイメージである。絵の具の線は網の役目をし、私は綱を頼りに、心理の内側に潜り込み、ゆらゆらと動きつつ、心の深層から一握りの記念物を持ち帰って来た様に思える。
写真においても、暗室の中で、感光紙の上に材料を置き、光をあて、素早く化学処理をしている内に、感光紙に現れる陰のイメージは、私の幻想と融合する。
しかし、登山家が、足元の花や、頭上の鳥や、遠くの雲の様な周囲に魅せられる様、ニューヨークの活力や美術界のエネルギーは、私にも大きな魅力である。
特に、周りの作家達の時折のスタジオ訪問は、作品の助言や分析として貴重で登山家の持つ磁石の様な役目をする。又、直接知らなくても興味を持つ作家の一作から、次の一作への変化、進歩を目撃するのは大きな鼓舞となる。
この会場の作品は、私個人の内面への冒険であると共に、長くニューヨークに住み、制作している日本人の記録として見てほしいです。
杉浦邦恵