KOBAYASHI SATOKO / YOSHIKAWA KAORI
October 29–December 24, 2022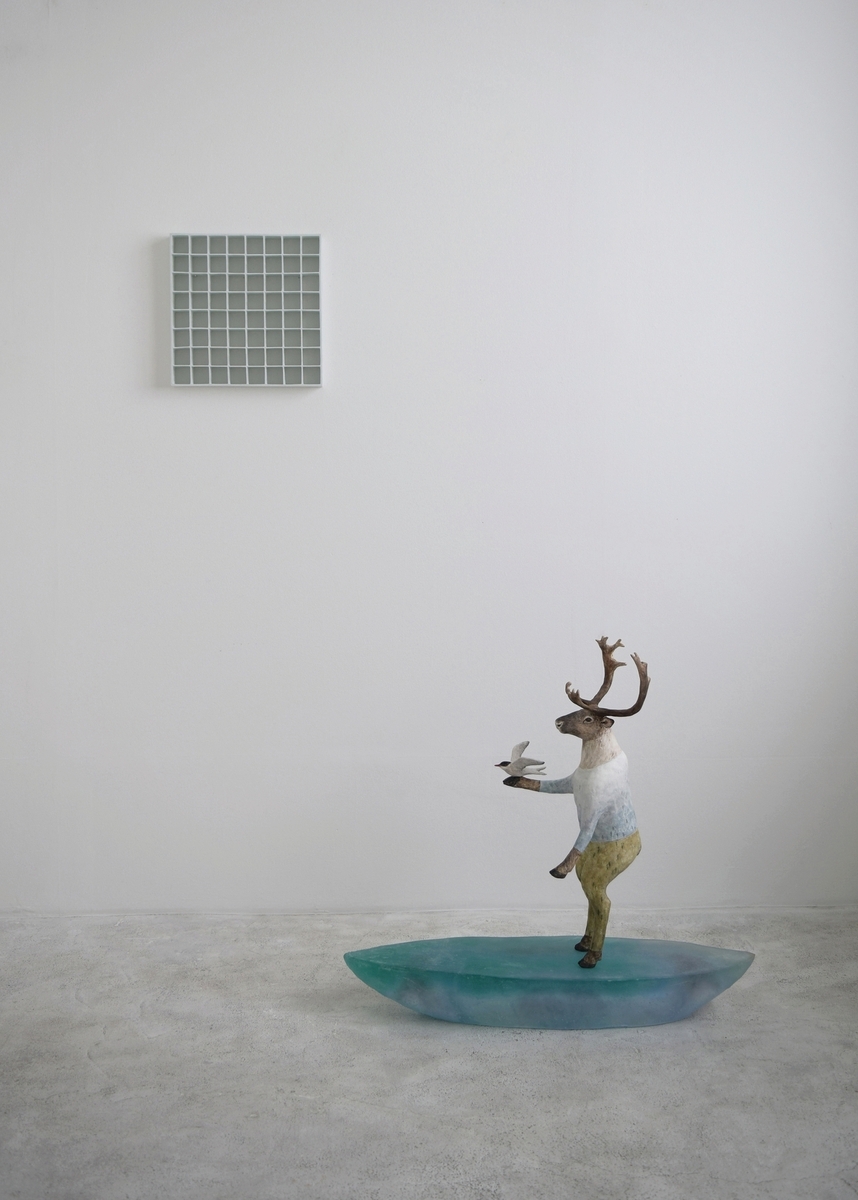 Tuesday – Saturday, 11:00–18:00 Calendar
Closed on Sunday, Monday and National Holidays
Closed on Nobember 3, 23
---
eyes and contours
What I see, what I could see
The view I begin to tell by what I see
Figuratively, there is a shape with pupil
Another is a shape with transparency or a grid structure
Images overlap as our gazes intersect
Inspiring eyes and contours resonated
A foreshadowing of a new view to emerge
---
Kobayashi Satoko graduated from the Graduate School of Tama Art University in 1993. The artist herself says, "Blue is the color that I feel closest to myself." For example, in her drawings, which are made up of an endless series of incredibly fine lines in a grid-like pattern, one can sense the depth and infinity even in the margins that extend from the continuity of the lines.
Yoshikawa Kaori graduated from Musashino Art University in 1989 with a degree in oil painting. This is her second group exhibition at Kamakura Gallery. Her clay animals, which have many fans in Japan and abroad, stand on beautifully colored and sculpted glass and various other materials and speak to us with rich expressions. The glass objects, which deepen the world of the story with the hand-crafted animals made of plaster clay, are cast by the technique pâte de verre, and similar glass brooches will also be on display.
In this exhibition, the artist will break out of the conventional framework and attempt a challenging exhibition of images that in some parts are drifting on the surface of water. We believe that a quiet and gentle chemical reaction will occur in this space of resonance, expansion, and drifting. We are looking forward to welcoming you at Kamakurayama, where the transition from autumn to winter is underway.
まなざしと輪郭
小林聡子 / 吉川かおり
2022年10月29日–12月24日
火–土 11:00–18:00 カレンダー
日 月 祝日(11/3, 23) 定休
---
まなざしと輪郭
見ること、見えること
見る事で語り始める景色
例えば瞳を持つ形がある
もうひとつは透過性や格子状の構造を持つ形
視線が交錯してイメージは重なり合う
内なる眼差し、共鳴する輪郭
新しい景色が現れる予兆
---
展覧会概要
小林聡子は多摩美術大学大学院美術研究科を1993年修了。「青い色は自分自身に一番親しいと感じる色」と作家本人が語るように、作品も透明感や通気性を感じる青色であることが多く、例えば、途方もなく細かな線が格子状に延々と連続して描かれているドローイング世界は、その連続性から繋がり広がる余白にさえ奥行きや無限性を感じられます。
吉川かおりは武蔵野美術大学油絵学科を1989年卒業。鎌倉画廊では2度目の二人展となります。国内外に多くのファンを持つクレイアニマルたちは、色と造形の美しいガラスや様々な素材の上に佇み、表情豊かに我々へ語りかけます。石膏粘土を塗り重ね細部にまで手仕事を施された動物たちと共に物語の世界を深めているこのガラスのオブジェは、技法パート・ド・ヴェールによって鋳造されたものであり、同様のガラス製ブローチも展示販売いたします。
今展ではこれまでの枠をはずし、ある部分では水面に漂うイメージのチャレンジングな展示を試みます。共鳴し合い広がり漂うその空間に静かで優しい化学反応が起こるのではないでしょうか。秋から冬へ移りかわる鎌倉山にて皆様のお越しをお待ちしております。